Fast rights management for WordPress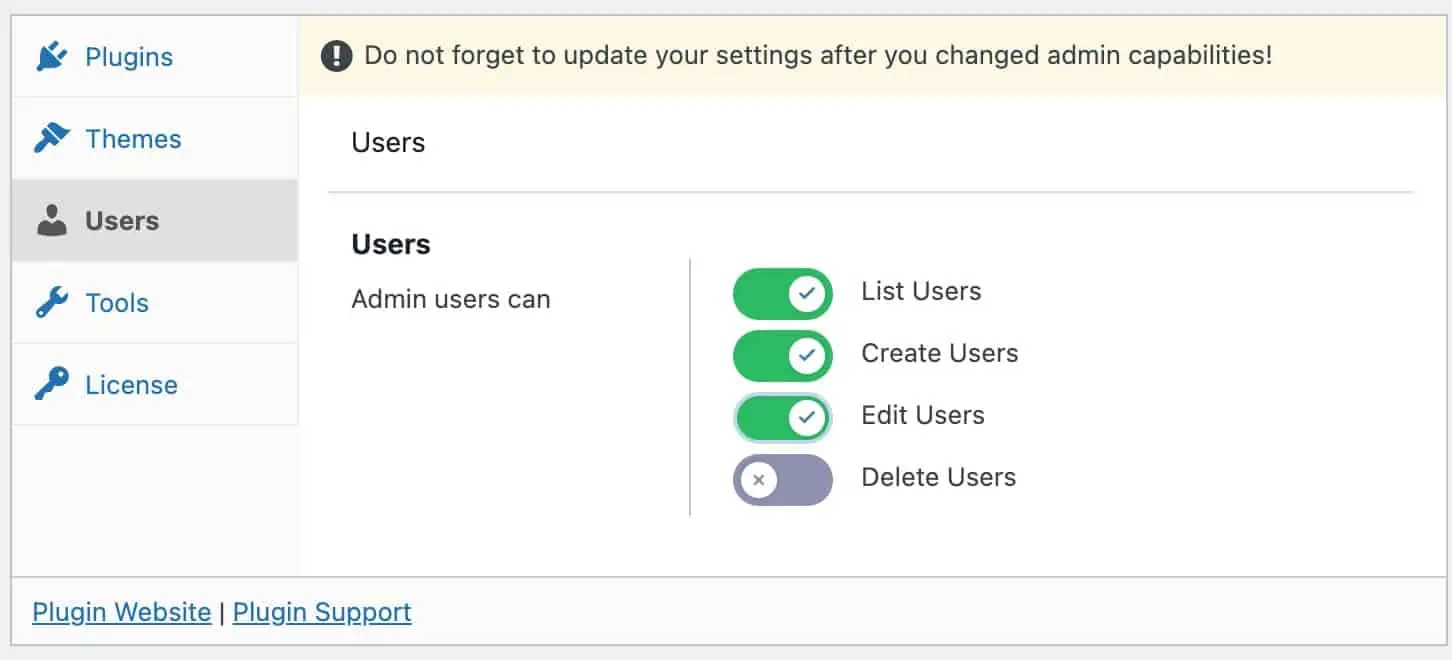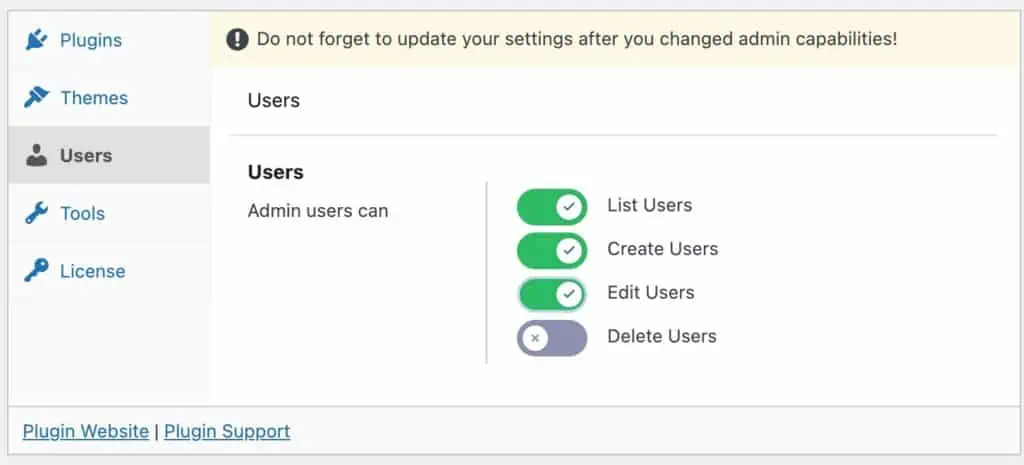 A reduced administrator role
for your WordPress clients
You don't want to give your customers administrator rights, because otherwise they could (for sure!) destroy something on your painstakingly created WordPress site? But the rights of an "editor" are again too small, because you can not edit a menu, widgets and your own users?
Then try "WP Admin User Role". A reduced admin role customized by you, ready to use in less than 60 seconds.
Even more than plugins, design changes can have a big impact on your clients' website. Here you enable the admin user ...
what changes can be made to Themes & Customizer, e.g.

Install themes
Update themes
Change themes
Edit theme files
Delete themes
Furthermore, you can outsource and share the menu and widgets items for an admin user, so that they can be accessed independently of the design.
Here you allow all "Admin" users to view and customize the users of the site. The following rights are available:
List users (i.e. display them)
Create new users
Manage existing users
Delete user
You can also set that an "admin" does not see "administrators". This way you remain invisible to an admin as the creator of the website.
Buy more freedom now -

for you and your customers.

Our customers

love

our service!
Susanne Vogt
4 August, 2021.
Thank you. Everything worked great
ikutech e.K.
23 July, 2021.
Mr. Brückmann was able to solve the problem competently and beyond his actual task. We are very satisfied with Mr. Brückmann's service / support and are happy to recommend him. 5 stars
Thomas Marx
29 April, 2021.
One is almost flashed by the clarity and conviction with which Mr Brückmann personally provides support on the phone. One call, boss on the phone, after 5 minutes everything was solved and explained. Thank you very much.
Joachim Diekhoff
21 April, 2021.
Very good service I can only recommend
Cristian Iconomu
12 April, 2021.
No wonder Albert and his team have only 5 stars reviews. The level of professionalism and fast response, combined with the usefulness of the work they do makes them one of the rare providers of software that is worth paying for. Thanks Albert, keep up the good work 🙂
Christian Michelbach
31 March, 2021.
Reacted very quickly and solved extremely competently. Thank you very much!
Michael Wallenta
29 March, 2021.
I received a prompt reply to my support request. I received targeted and professional assistance in using the API interface offered for WISO MyOffice! I am completely satisfied! Thank you!
BotCake Chatbots
25 March, 2021.
Excellent support, questions resolved promptly. Thank you Albert and team! UPDATE: Very glad to have found their Gravity Forms Double Opt-in Addon! It has put a complete stop to spammed form entries. When I asked support about a functionality of the Addon, they said it was in the works for the next release. A couple of days later they served me with a beta that included that desired functionality. And it works to perfection! I've never been this impressed by customer service with any software provider. The service provided by Albert & John was truly extraordinary. I thought customer service was dead on the internet and it might be, but these gentlemen are the exception. Thanks guys, you're amazing!
Stefan Gehrhardt
9 March, 2021.
Mr Brückemann and his company can only be recommended! Finally, a competent, friendly support team that knows what it's talking about!
Version 1.0.7 - 04.05.2023
FIX: Administrators could not create additional administrators when the plugin was enabled.
Version 1.0.6 - 16.12.2022 - The 2nd Advent Release
CHANGED: Dependencies in the settings are taken into account. Some settings are only visible if the parent setting has been activated.
CHANGED: The most common default settings are set directly when activating the plugin
FIX: Admins could edit administrators when they were visible
CHANGED: After activating the plugin, if the license is inactive, it now switches directly to the license input
Version 1.0.5 - 15.12.2022 - The 1st Advent Release
NEW: Menus and widgets can be managed separately and are displayed as separate menu items in the backend.
NEW: Administrators can \"hide\" from admins and determine whether admins can see them.
FIX: Admins had access to WP Admin user role settings under certain circumstances.
FIX: Users are now listed correctly. Previously, users may not have been displayed if they were Admin or Administrator at the same time.
FIX: The \"Tools\" menu item is now displayed correctly when the setting is set.
Version 1.0 - Sometime in late November 2022:
First beta version and invitation to test to existing customers