Official API for store system and merchandise management
WISO MyOffice

Interface

to WooCommerce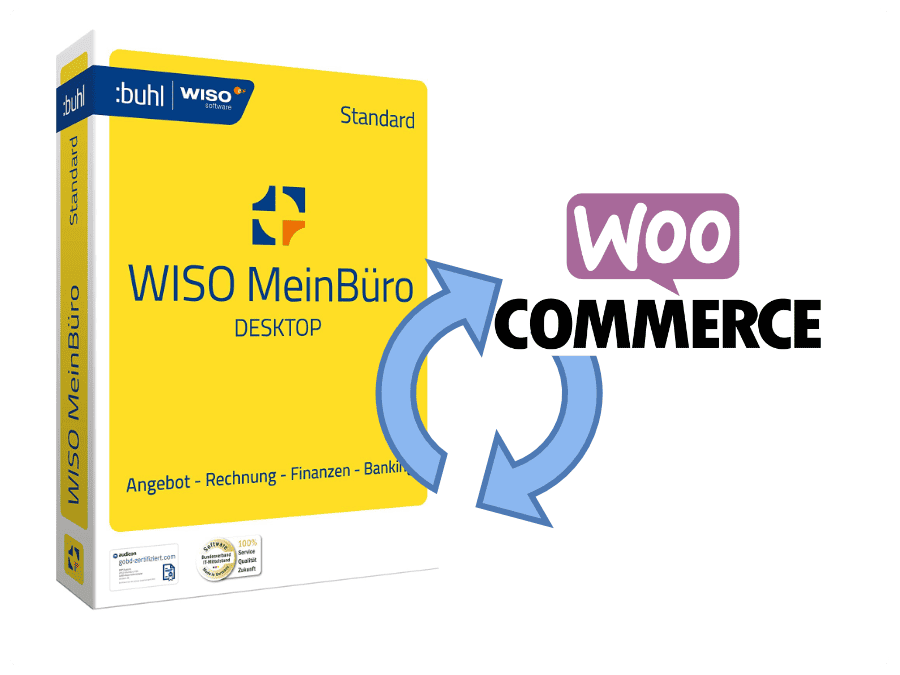 Save time and effort,

this interface does the work.

Almost as if by itself.
What tasks does the interface perform?
Transfer of new orders from WooCommerce

Export und Import von Artikeln von und zu WooCommerce

Update prices from MyOffice to WooCommerce

Update the stock levels
Learn even more in our product video
Choose the

suitable license

exkl. MwSt. (umgerechnet pro Monat)
Our telephone set up service
We make sure that the synchronization between WISO and WooCommerce runs properly. We do this in the following steps:
Installation of the interface in the WooCommerce shop via a temporary admin account.
Setup of the interface options individually for the customer
Setting up the connection in WISO MyOffice with the WooCommerce store (via AnyDesk).
Configuration of the interface in WISO MyOffice
Performing a test order and adjusting the import

Our customers

love

our service!
Susanne Vogt
4 August, 2021.
Thank you. Everything worked great
ikutech e.K.
23 July, 2021.
Mr. Brückmann was able to solve the problem competently and beyond his actual task. We are very satisfied with Mr. Brückmann's service / support and are happy to recommend him. 5 stars
Thomas Marx
29 April, 2021.
One is almost flashed by the clarity and conviction with which Mr Brückmann personally provides support on the phone. One call, boss on the phone, after 5 minutes everything was solved and explained. Thank you very much.
Joachim Diekhoff
21 April, 2021.
Very good service I can only recommend
Cristian Iconomu
12 April, 2021.
No wonder Albert and his team have only 5 stars reviews. The level of professionalism and fast response, combined with the usefulness of the work they do makes them one of the rare providers of software that is worth paying for. Thanks Albert, keep up the good work 🙂
Christian Michelbach
31 March, 2021.
Reacted very quickly and solved extremely competently. Thank you very much!
Michael Wallenta
29 March, 2021.
I received a prompt reply to my support request. I received targeted and professional assistance in using the API interface offered for WISO MyOffice! I am completely satisfied! Thank you!
BotCake Chatbots
25 March, 2021.
Excellent support, questions resolved promptly. Thank you Albert and team! UPDATE: Very glad to have found their Gravity Forms Double Opt-in Addon! It has put a complete stop to spammed form entries. When I asked support about a functionality of the Addon, they said it was in the works for the next release. A couple of days later they served me with a beta that included that desired functionality. And it works to perfection! I've never been this impressed by customer service with any software provider. The service provided by Albert & John was truly extraordinary. I thought customer service was dead on the internet and it might be, but these gentlemen are the exception. Thanks guys, you're amazing!
Stefan Gehrhardt
9 March, 2021.
Mr Brückemann and his company can only be recommended! Finally, a competent, friendly support team that knows what it's talking about!
⚠️ Bevor Sie beginnen: Alle Artikel (bzw. variable Produkte) in Ihrem WooCommerce Shop müssen zwingend eine eindeutige Artikelnummer beinhalten. Gleichzeitig muss diese Artikelnummer mit der Webshop-ID der Artikel in Ihrem MeinBüro übereinstimmen. Ansonsten ist keine Verarbeitung der Bestellungen nach Abruf möglich.
Damit ein Abgleich der Bestellungen zwischen WISO MeinBüro und WooCommerce stattfinden kann, muss das Plugin unter WordPress eingerichtet und die Verbindung zwischen WISO MeinBüro und WP in den E-Commerce-Einstellungen hergestellt werden.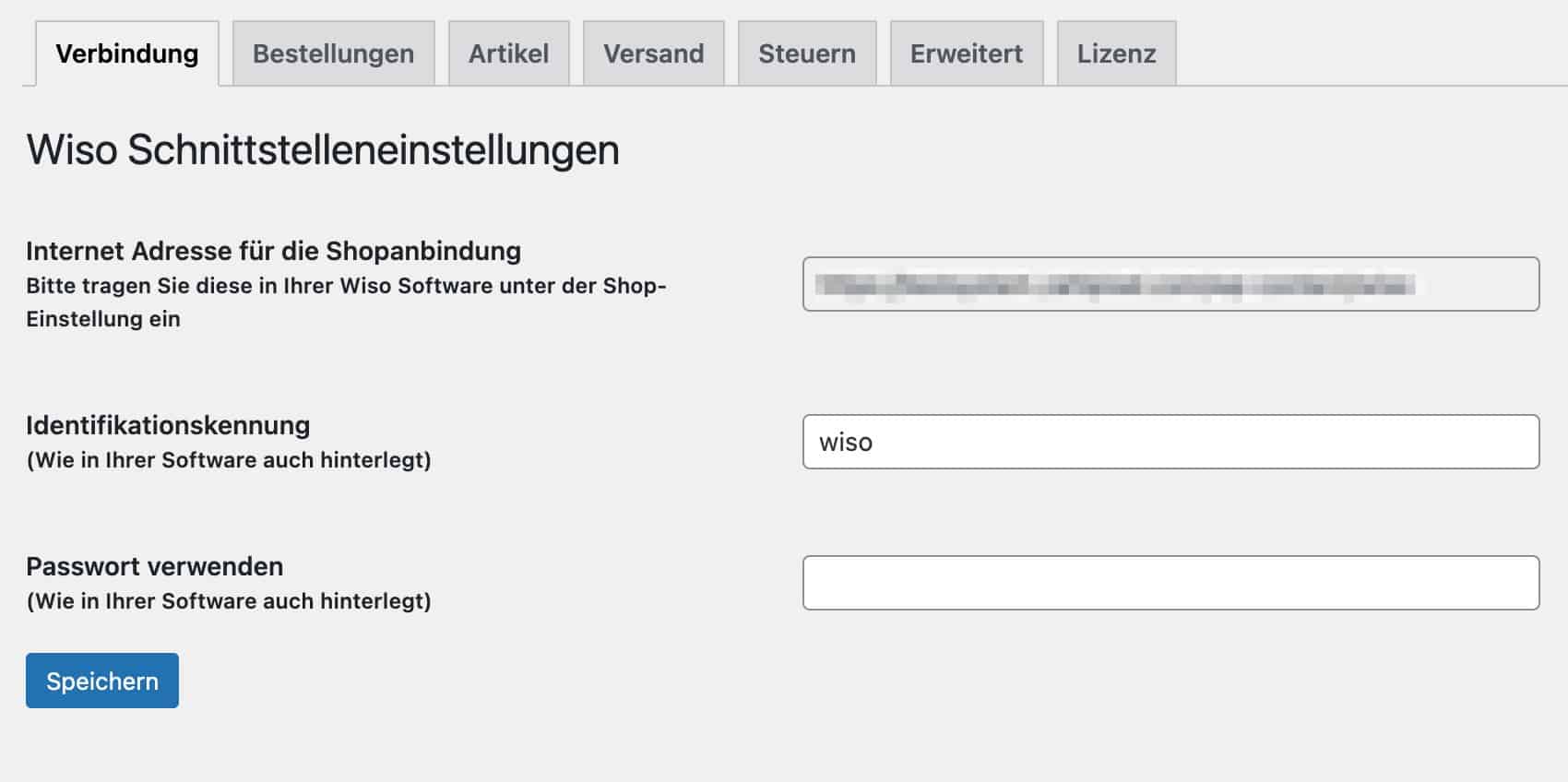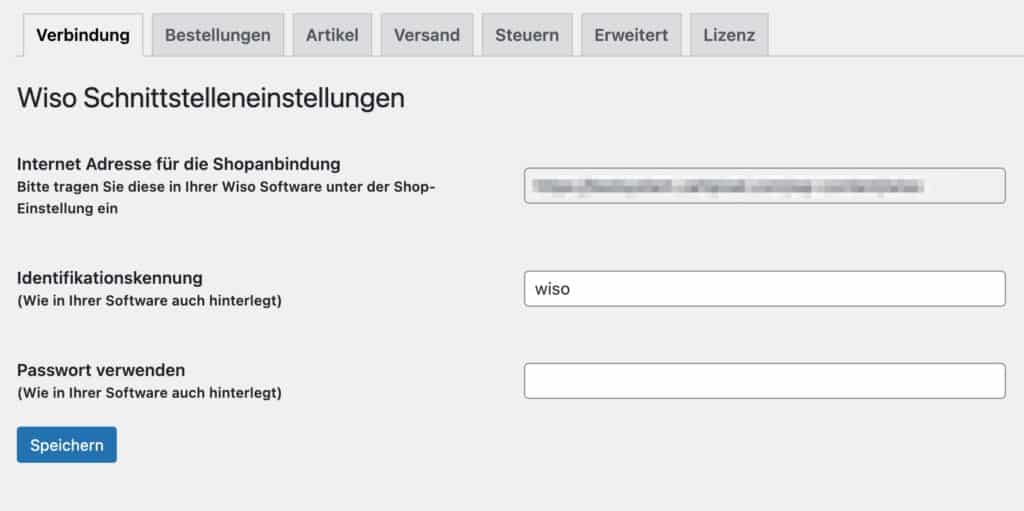 2. Nach der Aktivierung der Lizenz erhalten Sie Zugriff auf die Einstellungen. Nun können Sie die Konfiguration vornehmen.

3.Wählen Sie, welche Bestellungen importiert werden sollen (Beispiel):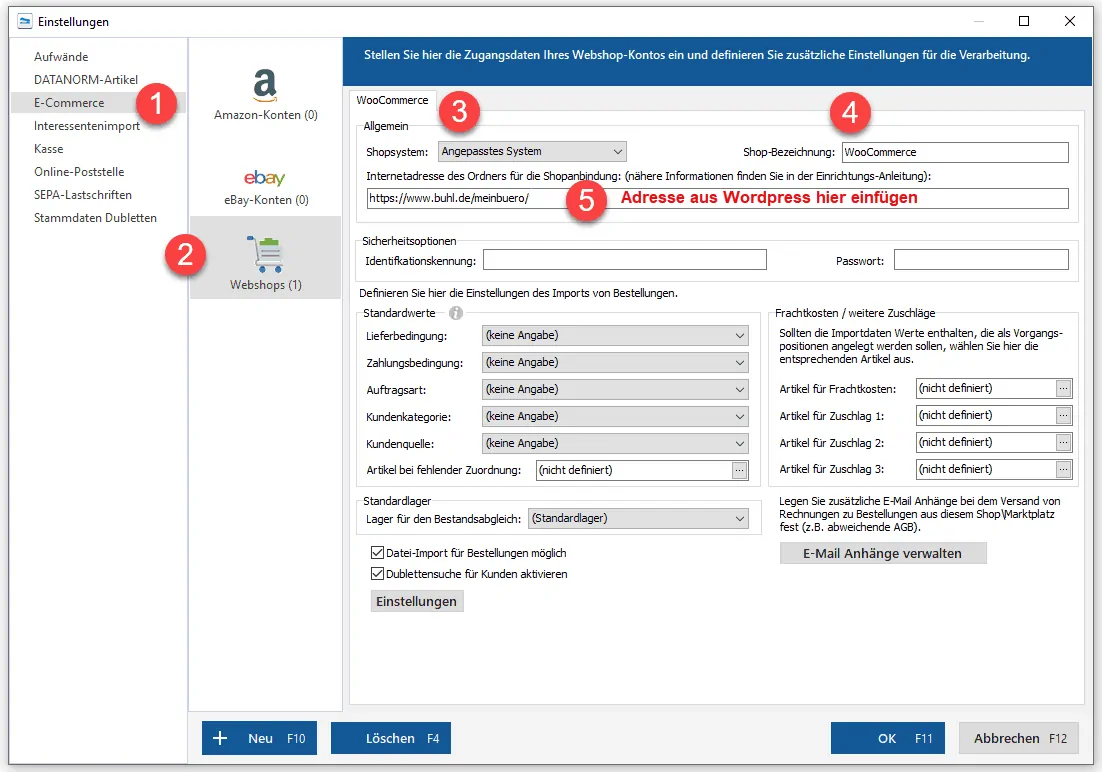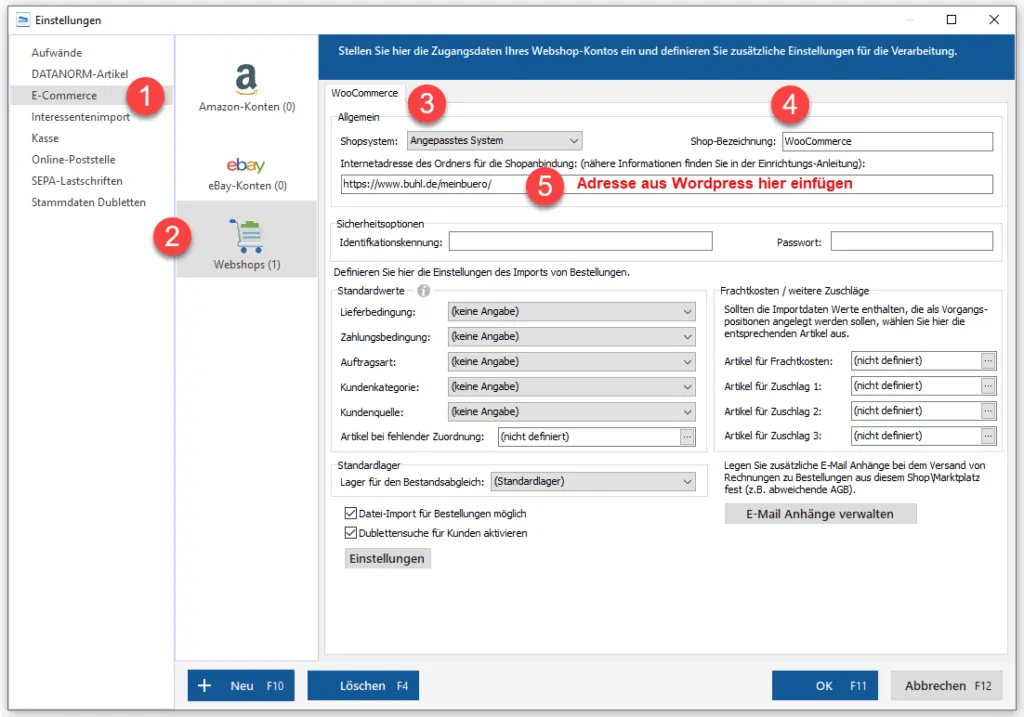 Geben Sie bitte den Pfad ein, den Sie in WordPress angezeigt bekommen haben und speichern Sie die Einstellungen ab. Nun können Sie einen Bestellabruf über Verkauf > E-Commerce Bestellungen probieren oder Artikel zum Webshop übertragen.
Bitte sehen Sie sich für alle weiteren Informationen zum Umgang mit der Schnittstelle unbedingt unser Video weiter oben auf dieser Seite an!
ℹ️ Eine ausführliche Anleitung ist auch auf der Seite von WISO MeinBüro zu finden.

Klicken Sie hier, um weitergeleitet zu werden!
15.04.2023, Version 3.8.2
FIX: Beim Artikelimport wurde für den anstatt der Artikelbeschreibung die Post_ID übergeben
03.03.2023, Version 3.8.1
NEU: Vorbereitung für einen Hook, über den weitere Elemente aus der Bestellung über den Beschreibungstext beim Bestellimport übergeben werden (zur Darstellung in der jeweiligen Bestellposition)
NEU: Unterstützung für WooCommerce Coupons – Übertragung ins Feld ZuschlagkostenNetto 1
20.10.2022, version 3.8.0
NEW: When ordering now also shipping email address and shipping phone number are sent
NEW: Übertragen von Pfand-Werten, die in WooCommerce als \"Gebühr\" gespeichert werden
FIX: Error corrections for variant products
09.08.2022, version 3.7.9
NEW: Reading of the EU VAT ID and transfer with the retrieval of the orders into the customer file (only if MarketPress is installed and active)
FIX: Ändern der Standardanrede – wird nichts gewählt, bleibt diese leer (nur mit Germanized oder Marketpress verfügbar)
07/22/2022, version 3.7.8
FIX: Correction in error message in orgaMAX/MeinBüro if there is no connection to the license server or the license has expired.
FIX: Max. Date for the query can now also remain empty
FIX: When exporting articles, values are now added to the post_modified and post_modified_gmt columns to be compatible with the SQL option NO_ZERO_DATE
CHANGE: Verschieben einer MwSt. Option in den Reiter \"Steuern\"
05/16/2022, version 3.7.7
Correction: When synchronizing prices, offer prices are now removed as they are no longer up to date
Corrections to shipping costs for mixed shopping carts: Now an option in the settings lets you adjust whether shipping costs should be mixed or calculated according to the highest VAT rate
New setting that allows to send a different VAT in general. This is sometimes necessary, especially in cross-border areas, when the internal tax rate is different from the foreign one. Activate only in case of need!
Adding a log for each action originating from orgaMAX, which can be activated in the advanced settings
04.04.2022, version 3.7.6
NEW: Added support for split shipping taxes when using Germanized. Here, the shipping costs are transferred as a double position and carry the normal as well as the reduced tax rate proportionally.
FIX: Correction for items with 0% VAT. Sentence. Change of output format from Float to String
21.02.2022, Version 3.7.5
– KORREKTUR: Gratis-Artikel werden mit dem Steuersatz des Produktes exportiert (vorher wurden Gratis-Artikel mit 0% Steuersatz exportiert, was zu Buchungsproblemen mit falschen Konten führte)
– NEU: Option zur Aktivierung und Deaktivierung der Übertragung der Bestellnummer in Individuelles Feld. Standard = Aktiviert.
13.01.2022, version 3.7.4
– Fix: Doppelsynchronisation bestellen mit \"WooCommerce Sequential Order Numbers PRO\" hinzufügen
10.01.2022, version 3.7.3
– NEU: Kompatibilität mit \"Germanized for WooCommerce\" Plugin
06.01.2022, Version 3.7.2
– NEU: Kompatibilität und Einstellungen mit \"WooCommerce Sequential Order Numbers PRO\" hinzufügen
04.01.2022, version 3.7.1
– NEU: Kompatibilität und Einstellungen mit \"WooCommerce Sequential Order Numbers\" hinzufügen
… Weiter zurück
geht\'s auf Anfrage
.
Einrichtungsservice: Mit diesem Service erhalten Sie von uns eine Rundum-Sorglos Behandlung und können die Schnittstelle innerhalb kürzster Zeit einsetzen.
WPML – Add-on: Wenn Sie einen mehrsprachigen Online-Shop einsetzen und Artikel in bestimmten Sprachen abgleichen möchten, nutzen Sie dieses Add-On.
This list is not exhaustive, as some problems only occur in practice. These are limitations in WISO MyOffice, not in our interface.
Product images cannot be transferred because WordPress goes through certain processes when uploading, for example to create several different image sizes. This must be done manually
Beim Artikel-Import von WooCommerce nach MeinBüro wird alles, was ins Feld "Anmerkungen"übertragen wird, nach 255 Zeichen von MeinBüro abgeschnitten.
Beim Artikel-Import von WooCommerce nach MeinBüro wird alles, was ins Feld "Artikeltext"übertragen wird, nach 1024 Zeichen von MeinBüro abgeschnitten.
If a voucher is declared as a value voucher, are treated incorrectly by MeinBüro in the VAT. Although the final amount on the invoice is correct, the VAT is not calculated correctly.
A maximum of 5 individual fields can be matched in both directions
Fields that do not exist in MyOffice have to be maintained manually in WooCommerce (e.g. categories, keywords, etc.).
Da MeinBüro keine Variantenunterstützung bietet, kann aus MeinBüro kein Produkt der Art "Variables Produkt" exportiert werden. Ein Abgleich ist dennoch möglich, wenn das Variantenprodukt zuerst in WooCommerce angelegt und dann zu MeinBüro importiert wird (jedoch nicht andersherum). In jedem Fall muss jede einzelne Variante eine eigene SKU (Artikelnummer) erhalten, die mit der Webshop-ID in MeinBüro übereinstimmt. Das "Eltern-Produkt" in WooCommerce darf dabei KEINE Artikelnummer tragen, es dient lediglich als Container für die einzelnen Varianten.
Achtung IONOS Kunden: bei IONOS lassen sich WordPress Installationen als "Managed" oder "Standard" aufspielen. In der "Managed" Version scheint es laut Kundenmeldungen zu Problemen beim Speichern der Einstellungen zu kommen. Bitte halten Sie dazu Rücksprache mit Ihrem IONOS Support oder stellen Sie die Installation auf "Standard" um.
Individual fields
The following function can be used to access or change the data of individual fields:
function change_me_function_name( $individualFields, $productSku, $productId ) {
// (maybe) modify $individualFields array.
return $individualFields;
}
add_filter( 'wiso_product_individual_fields', 'change_me_function_name', 10, 3 );