Attention! Changes for all customers of the WISO and OrgaMax interface necessary!
Dear customers,
In version 2.0.1 there will be a significant change that requires a change in the settings in the E-Commerce area. This affects both OrgaMax and WISO MyOffice. Since I have more and more customers whose WordPress installation is not in the base directory of the web server, there were always problems with the placement of the interface folder. Previously, this was placed directly in the root directory as soon as the plugin was activated:

⚠️ From now on, we will use the standard-compliant folder "uploads" within "wp-content" to store the interface folder, as this is the same for all clients and there should no longer be any incompatibilities. This means that the URL in your WISO MyOffice or Orgamax will change as soon as you install the update:
https://domain.de/orgamax or https://domain.de/wiso then becomes
✅ https://domain.de/wp-content/uploads/orgamax resp.
✅ https://domain.de/wp-content/uploads/wiso
Please change this in your program on the computer after the update or point this out to your customers: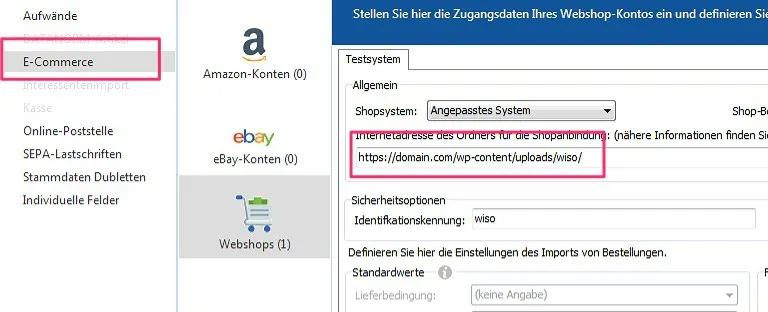 Synopsis:
1️⃣ Once you see the update (> 2.0) for the interface in your WordPress backend, run it.
2️⃣ Go to the interface settings (WooCoomerce > WISO or Orgamax API).
3️⃣ Copy the new path from the display
4️⃣ Add the new path in the e-commerce settings of WISO MeinBüro or OrgaMax
5️⃣ Test the retrieval of new orders. If it still doesn't work directly, save the settings in the WooCommerce interface within WordPress once and test the fetch again.
💡 The update is expected to be made available early next week. Note that the price for the interfaces will then increase from €149,- to €249,-.