It's been almost a year since I've been with
startupBW
I held an elevator pitch about Meminto Stories, and now it's here: Meminto Stories can be tested. As of today, about 300 users are already doing so, which I won over via a Facebook campaign. More about this in the next lines - plus an explanatory video!
Just last week I finished the new explainer video for Meminto Stories - so far only in English. In the next two weeks, I plan to dub it in German as well (with the help of my audio platform SpeakStaff, which I founded in 2015). You can watch it here:
Right after summer vacation, we started implementing Meminto Stories on a custom development. The goal was to create a collaborative system where families and friends can work together on life stories motivated by Meminto. Every week, users receive a question about their life or that of their children and can create a book step by step, which is printed and sent at the end.
To make this a little clearer, I've developed an 8-page flyer that can be viewed here:
Meminto ready for testing
And now Meminto Stories is ready to be tested. Signing up is easy via email, Facebook or Google login. After that, you can immediately start answering the questions.
Meminto Stories was developed as a freemium system. This means: The start and the use is free, but you can convert your account to a pro account (from €3.90 per month) and then enjoy significant advantages over the free variant, which are also reflected later in the product, eg.
Questions can be adapted in their form
All questions can be answered in one go. In the free account it is only possible to answer one question every 4 days. The creation of a book within a short time is therefore only possible in the pro account.
Instead of one upload per question, up to 10 media files incl. videos can be attached per question
Generally, video uploads are only possible in the Pro account. This has to do with the higher amount of data we have to host.
First marketing test
For the market check, I launched an initial test on Facebook by targeting a campaign to Meminto Stories Kids. In the Kids variant, Meminto Stories asks the questions from a child's point of view to their parents. This starts before birth and ends when the child turns 14. This makes Kids especially suitable for a 16th or 18th birthday gift. The child gets a very personal book about himself, full of pictures and videos, but in contrast to a pure photo book also full of stories.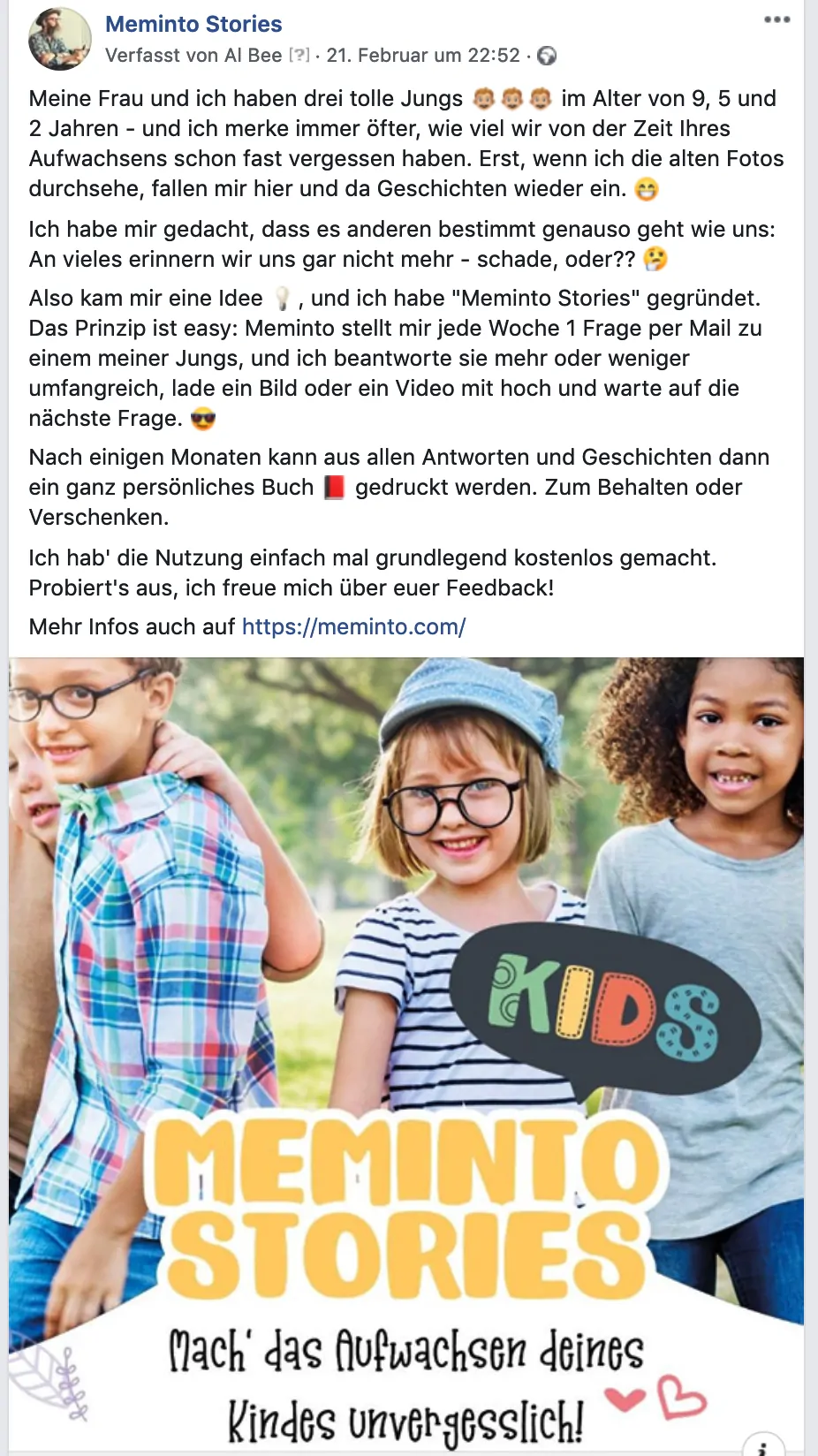 The ad on Facebook
In this form the advertisement was written, which on the one hand is very long, but on the other hand also reveals a lot of personal information about me. I decided to do it this way because my target audience is or has to be someone who is not immediately overwhelmed with reading and writing and who appreciates it when someone works with loving, funny motives.
Furthermore, I start from a problem I experience myself and assume others do too. This assumption works out. Meminto Stories registers about 80 registrations a week with a daily budget of only 10 euros.
After 3 weeks I have the following result with a 1% conversion rate:

Of course, 1% is not really much (3% would be better) and besides, these are people who are trying out Meminto Stories for free and haven't bought anything yet. But for me it's a good amount of users to work with and optimize the system piece by piece.
And compared to creating and printing flyers and talking to people at a trade show, I've had to invest significantly less money and time here to get significantly more users.
The next steps
Now, before I invite you again to just give Meminto Stories a try, let me briefly describe where it's going.
At the moment I am preparing to join the Cyberforum. For the development of the second step, which is to tackle augmented reality (i.e. the integration of videos in books), I now need capital and know-how. Both can be found in Karlsruhe. At the beginning of April, there will be another pitch to the jury, which will then decide on "Go or No". Let's leave it up to us.
Now go on - try it out and tell grandma, grandpa or young parents!